Pastor Cindy Kiganda together with Christianity Focus Women With Differences invite all the women to the life changing women Conference aimed at awakening the women of God across the globe, empower them together with teaching them the word of God.
Speaking in the Sunday service, Pastor Cindy Kiganda announced the 11th – 14th May 2023 to be this year's Annual Royal Women Beauty conference dates which is to happen at Christianity Focus Centre, Mengo Kisenyi.
Pastor Cindy Kiganda Nalongo is the vision bearer of the Royal Women Beauty Conference in which women are equipped with knowledge on how to they can improve on finances and other life skillings.
Pastor Cindy confirmed the presence of most of the powerful women of God across the world who will be gracing the event, among them is Prophetess Hadassah from United Kingdom, Pr. Theresa Brown from Germany, Pr Granny Slindza (South Africa), Ap  Grace Duro (Zimbabwe), Evangelist Nalongo Madina (Uganda) and PR. Rose Kazibwe (Uganda) together with Bishop David Kiganda.
She went ahead and admitted that this year's Annual Royal Women Beauty conference will be under the theme "Woman of purpose" – Esther 4:16.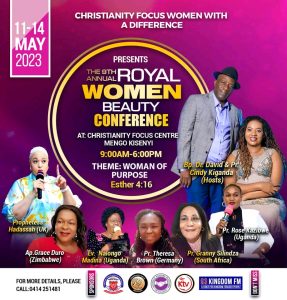 "I invite all the ladies to this Annual Royal Women Beauty conference at Christianity Focus Centre in Mengo Kisenyi, don't miss it for anything, Some of the activities we have life Skilling during the Conference at free of charge that's empowering women financiall  May God bless you" Pastor Cindy said.
Also read: We're still controlled by the Whites, Bishop David Kiganda reflects on EU Parliament decision.