Fast – rising gospel artist Umezz44Styler has come out and advised singer Alien Skin to repent and become a born again, after a short video of him went viral as he was praising the devil for setting him free.
Umezz44Styler says that Allien Skin can only be free after becoming a born again and get saved from the bondage which he entangled onto.
"Jesus is life and whenever you denounce him, you're denouncing life, you can be physically alive but dead spiritually, It's not too late for Allien Skin to change his minds because Jesus loves him" Umezz44Styler said.
Umezz44Styler went further and advised him (Alien) to listen to one of his songs called "identity " in which he talked about his previous life before Christ and how he got saved.
"I was once like him, I grew up in the ghetto and I know what ghetto life means, it's Jesus who lifts talents in Ghetto, and am 100% sure that He lifted Alien Skin, so Alien should only praise him but not the devil," Umezz44Styler added.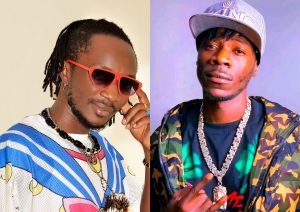 Alien Skin has since remained silent on the video, and has refused to delete it from his social media accounts, even after numerous calls from critics and followers.
Also Read: US compensate 40bn to family of a Ugandan girl who was killed in America.