Singer New Nature has come out and expressed his dissatisfaction with the way Alien Skin used the gospel song to praise the devil in one of the videos which has gone viral when Alien Skin claimed that "he give thanks to the devil for setting him free".
While talking to our reporter at Kingdom Media, New Nature admitted that his fellow artist Alien Skin pressed a wrong button by praising the devil, and advised him to consider repenting and turn to God.
"The devil should be pressed not praised, I released a song "Satan kumpingu" which means that Satan deserves to be arrested, and now how comes that my brother praise him, moreover using a gospel song" singer New Nature said.
He went further and advised Alien Skin to accept Jesus as his Lord and saviour, because it's only him who lifts and set people free but not the devil.
"Jesus is the way and life, it's only him who sets people free, I was among the lost people and I was singing about the parties and girls, but ever since I gave my life to Jesus, I never regret so my brother should also get a breaking point and turn to the Lord".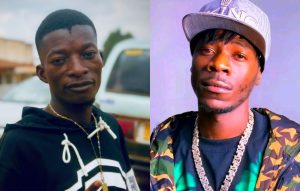 Singer New Nature real names Kalyoowa Manday is a gospel artist who just recently rebranded from Kabaka New Style to New Nature and he claims that it was God who revealed to him that he has to change the name.
Also Read: Bishop Kiganda appreciate Hajji Asuman who employed him 42 years ago.