Welcome to the 16th Annual National Prayer Day 2022. It all began in the year 2006 when the inspired us as a ministry to organise a prayer day for the whole nation and it is on the cross-over day to a new year. The Lord has been true to His word to the extent that this memorable event gathers over 100000+ people.
Download National Prayer Day Card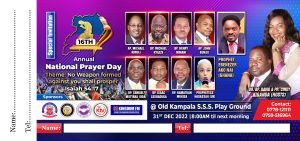 As you gear up and come for this memorable event, we highly recommend that you ensure to do the following as a way of giving back to the Lord and as a way of mobilising for this day. You can call them guidelines on how to prepare for this day.
Come with Your new year resolutions.
Bring the sick, lame, and all that are oppressed.
Carry 16 people along with you.
Bring with you all your prayer requests.
DOWNLOAD THIS INVITATION CARD
WRITE YOUR NEW YEAR RESOLUTIONS ON THE BACK OF THIS CARD, FILL IN YOUR CREDENTIALS AND SEND IT BACK TO US ON OUR EMAIL:christianityfocusmins@gmail.com
Use Our Online Giving Guidelines to send in your NEW YEAR'S SEED