By Joshua Kiganda Yatuh
---
Atleast 13 have been killed and 21 injured in a school shooting in central Russia. The school comprises of pupils aged 6 to 17 years.
Governor Alexander Brechalov said that a former pupil of the school, identified as Artem Kazantsev, opened fire and after turned the trigger to himself.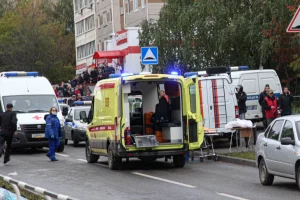 "Seven  pupils are among the 13 that have been killed by the gunman at the school" Russian authorities said. The other deceased six were adults.
The school has been evacuated and the surrounding areas sealed off.