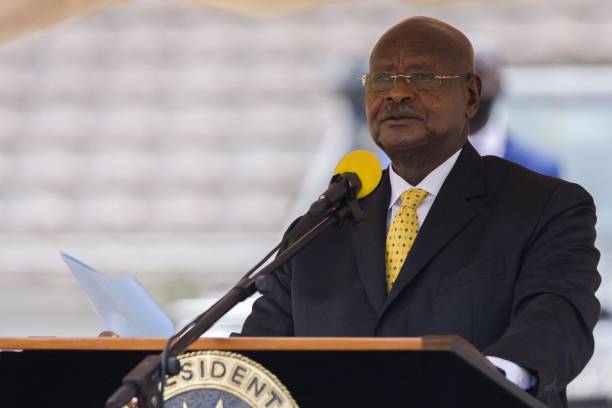 By Namuddu Brenda
---
While at the independence celebrations in Kololo independence grounds, the President of the Republic of Uganda H.E Yoweri Kaguta Museveni Tibuhabura stands to warn the Europeans from the malicious medaling into the Africans affairs of mineral development.
The President indicated that "African development does not need any alien actors who want to pretend to be heroes yet they are wolves". He also assured Ugandans that the he is going to deal with any intruder that tries to hinder the growth and development of East African oil pipe line.
"My countrymen therefore should not worry that those arrogant whites, cannot stop the oil project in East Africa. If any actor tries to delay our project we shall decisively deal with that betrayal according to the relevant laws", said Museveni.
On the same event, President Museveni praised his bid of coffee, as the spearhead of African coffee development project in which he asked Africans to start investing their money. He said, "I am the promoter of the coffee value addition, no one else is part of my hard work."
As a way to push East Africa's development Museveni partnered with Tanzania to extract and transport crude oil discovered in Western Uganda and formed the East African Crude Project (EACOP).
However, the European Assembly is de-campaigning this project and they want it to stop with immediate effect on the claims that it abuses the human rights, as well as the social and environment destruction.
Currently, Museveni assures East Africans that the EACOP activities like constructing the pipeline must go ahead come rain come sunshine and with the support of china being the biggest investors in this project.
ALSO READ: NRM endorses Museveni to run for presidency in 2026.