By Mudecha Aramathani
---
While attending the First Uhuru Festivals at Independence Monument Ground on Saturday, the Permanent Secretary of Ministry of Tourism, Wildlife & Antiquities, Mrs. Doreen Katusiime encouraged the public to embrace the move by the Cultural Heritage Association of Uganda to "Make Uganda Green in the Next 60 and 100 years".
The Permanent Secretary who has selflessly worked and dressed Uganda's culture and National resources' conservation at heart, informed the public that conserving and preserving resources is the only move the country has to dream about, in securing the depletion of  and competition for green nature. She also appreciated the campaign taken by the Association to plant trees.
"The populations are growing. So we are all struggling and completing space. The issue is how do we sustainably use the resources but conserve and preserve them. I'm very excited to hear the plan by Uganda cultural Heritage Association about planting 60 Million Trees," said Mrs. Doreen.
Madam Doreen Katusiime also encouraged the youth to climb on the trek in securing their green nature through activities like Cultural Heritage Association Uganda is committing to do.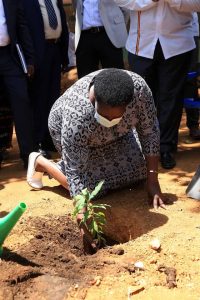 "I would like to tell, especially the young people that 60 years from now, you will still be here and you want to see better Uganda. If we don't look after both our national and cultural heritages then we will not have a country to boast about in 60 years from now. So as you plant trees, stop cutting those trees. Stop degrading the wetlands. Stop throwing litter everywhere. Take care of your waste. Stop throwing plastic bottles in the drainage. Let's take care of our country so that in 60/100 years from now, we have a country to be proud of," she said.
The Vice Chairperson of the Cultural Heritage Association Uganda, Tosh Bwana assured that in this "Make Uganda Green campaign", it will be appealing for every Ugandan to plant a tree where land is possible.
"Uganda is celebrating its 60th Independence. And we are saying if we are 45 Million people, and if each of the ten million people plants ten fruits. All we are asking you is, everyday when you get a jackfruit seed or any fruit you eat, wash it and plant."
While commenting on the tourism package for National Tourists, the Permanent Secretary, Mrs. Doreen Katusiime informed that the Ministry of Tourism, Wildlife and Antiquities will continue to avail all the necessary information to the Public about the Wildlife and Tourism privileges for both Uganda national and the foreign tourists. For instance she said that, "Many times Ugandans are not aware that when you go to the National Park, you pay only Ug.shs.25,00. We even have special accommodation facilities in these national parks which are our own. We have special rate for Ugandans, you don't pay the same as a non-Ugandan".
The Permanent Secretary revealed that in a bid to protect the environment, and increase the green cover, the public should know that they are adding value to Uganda's move to sustain it's resources.
ALSO READ: NRM endorses Museveni to run for presidency in 2026.