By Nalukwago Sandra Annet
---
The Uganda Communications Commission (UCC), under its task team, the Uganda Computer Emergency Response Team (CERT), has cautioned the pubic to be careful about the dangerous social media hackers as it has been informed by decry of the public against social media theft.
In the statement released by CERT department today, people have been warned to be careful with who they share their personal details. CERT encouraged the public to always approve the settings of their phones to limit hacker's intrusions.
"The user can also modify the security settings on their phone by turning on the two authentication on their WhatsApp account to add extra layer of security," said the CERT department.
In the bid to fight cyber-crimes in Uganda, UCC under its task force UgCERT has launched October Cyber security Awareness Month 2022, with the theme "See yourself in cyber security".
"This has come with an emphasis on human involvement in building stronger security strategies and highlighting basic practices used by hackers, ''said UCC under tweeter handle.
A hacker is an individual who uses computer networking or other skills to overcome a technical problem for a positive outcome. However the internet hackers can turn to be dangerous when they use their ability to gain unauthorized access to system network that end them committing Cyber Crimes.
The internet thieves targets people's bank accounts, ATM passwords, WhatsApp privacy and codes for selfish personal gains.
These thieves have learnt thousands of tactics they use to hack people's private information, for instance calling people as telecommunication agents like MTN, Airtel among others.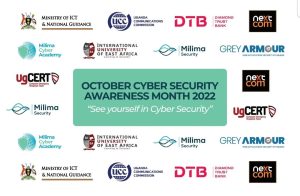 However there are many provision in the constitution of Uganda that criminalize the abuse of people privacy and among these include Article 41 that limits access to information prejudicing the privacy of other persons.
In the recent Parliamentary sitting, Hon. Muhammad Nsereko tabled the Computer Misuse Bill policy that was passed by the House. This bill is awaiting the President's assent to be passed as an Act that criminalizes cyber related evils, including theft by the internet hackers.
ALSO READ: Ugandans to plant 60 Million Trees in the "Make Uganda Green Campaign"